STRUCTURAL FRAMING FASTENERS FOR PROFESSIONALS & DIY   


Decks
Engineered type-17 points ensure fast starts, reduce installation torque and eliminate the need for pre-drilling.
laminated beams
Designed for both ease of installation and superior strength, Lag-Master screws are a time-saving alternative to lag screws or bolts that require pre-drilling.
DIMENSIONAL LUMBER & TRUSSES
These structural wood screws are ideal for the contractor and DIY folks alike and are available in all the sizes to match your installation environment.
joist and ledger
Lag-Master heavy-duty wood fasteners are designed for wood-to-wood construction such as ledger boards, under-deck connections, trusses and dimensional lumber.
LAG-Master Is the ProFESSional's choice
---
Lag-Master is a heavy-duty, code-compliant wood screw engineered for structural framing jobs and designed to replace 3/8" lag-screws. The type-17 point eliminates pre-drilling and makes for fast installations with even the densest woods. The draw-tite shank pulls trusses and 2 and 3-ply dimensional wood together rather than pushing them apart as the fastener is driven in. Lag-Master's hex-washer head is designed for applications where greater torque is required and it provides a larger bearing area for greater holding power.
Lag-Master is tested and supported by engineering data that conforms to the current ICC standards – ICC-ESR#3531. More Information
BEST SOLUTION
Lag-Master is a single-design fastener for all your structural framing projects, including wood to wood construction, decks, docks and boardwalks, retaining walls, laminated beams, rim to joists, joist and ledger, trusses, dimensional lumber, deck & fence Hardware and underdeck connections.
WHO NEEDS LAG-MASTER?

CODE COMPLIANT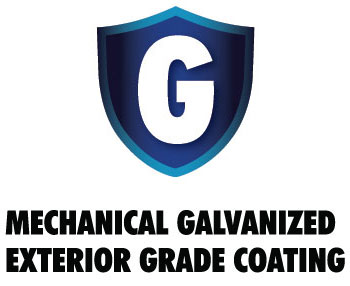 PERFORMANCE DATA:
Application: Structural
Compliance with the following codes: 
2015, 2012, 2009 International Building Code® (IBC)
2015, 2012, 2009 International Residential Code® (IRC)
All local code requirements must be followed and a design professional should be consulted for proper spacing requirements.
BEND YIELD 150,000 (psi)
FEATURES:
Draw-Tite shank pulls wood members together
3/8-in hex head for maximum torque
Type 17 self-drilling point eliminates pre-drilling
Mechanical galvanized exterior-grade coating
ICC compliant - ICC-ESR#3531
PACKAGING OPTIONS AVAILABLE: